The wireless industry has for years successfully fought regulations that would force mobile phone networks to be hardened so they work during storms, but it may face renewed demands after Hurricane Harvey knocked out seven of 10 cell towers in the hardest-hit counties of Texas.
The outages revive a topic that recurs with each major storm, including 2012's Hurricane Sandy that left millions of people in New York and New Jersey without communications.
"The wireless industry has done everything it can to persuade federal regulators and state regulators not to require that backup power be put in place," said Regina Costa, chair of the telecommunications committee of the National Association of State Utility Advocates, which speaks for consumer representatives. "It's a huge public safety issue — because in order for communications to work there has to be power."
Across the 55-county disaster area in Texas and Louisiana, nearly one in 20 sites were out as of Tuesday, according to the Federal Communications Commission. By Wednesday, the share of stricken sites dropped to 4.2 percent from 4.7 percent, and in the two hardest hit counties the out-of-service figure dropped below 50 percent. In Harris County, which contains the state's biggest city, Houston, 4.8 percent of cell sites weren't working Wednesday, compared with 5.1 percent a day earlier, according to the FCC.
The FCC imposed power backup requirements after Hurricane Katrina in 2005 knocked out more than 1,000 cell sites — roughly triple the number of power failures seen with Harvey — due partly to power blackouts. The rule never took effect as the wireless industry fought it in court and before an office in the White House that reviews regulations. Since then, the FCC has considered but not adopted similar requirements.
Harvey could refocus the agency. FCC Chairman Ajit Pai is to visit Texas to inspect damage Sept. 5. He said in a prepared statement Wednesday that the agency "will do everything it can to help restore communications services after this terrible storm."
Largest U.S. Refiner Shuts as New Harvey Landfall Extends Damage
Further steps may be needed to ensure that storm victims can report emergencies in the future, said FCC Commissioner Jessica Rosenworcel.
"As waters swell and Houston reels, this agency needs to get to work," Rosenworcel, a Democrat, said in an email. She called for "a full plan for fixing the vulnerabilities we are finding — from overloaded 911 systems to out of service cell sites. We don't have time to waste — because we know that weather emergencies can occur anywhere at any time."
Wireless companies readied backup generators, positioned fuel and brought in emergency response teams ahead of Harvey making landfall, according to CTIA, a trade group with members including AT&T Inc. and Verizon Communications Inc.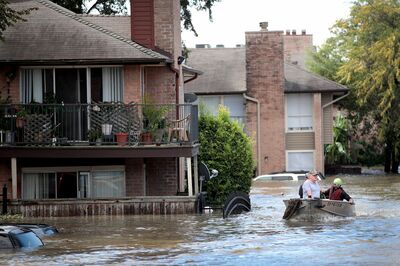 "Thanks to wireless, millions of people in the path of Hurricane Harvey have been able to seek help and connect with family and loved ones in the face of this unprecedented event," said CTIA President Meredith Attwell Baker in a news release. "I'm proud of the planning and close collaboration of carriers to prepare for the storm and the ongoing work to both maintain and restore service."
Asked about the calls for backup power, CTIA spokesman Justin Cole said that carriers have worked closely with government officials and have kept wireless coverage at 95 percent across the area impacted by Harvey, while emergency call volume has increased.
As the storm approached, AT&T said it had topped off fuel generators, tested high-capacity back-up batteries at cell sites, and moved portable cell base stations into place. It has installed more generators at critical cell towers and switching facilities, and moved electronics essential to network operations above expected flood levels. Verizon said it had installed backup power systems and readied generators and prepared for extra fuel deliveries.
Earlier the industry fought rules for mandatory power backup. It has said other methods, such as routing traffic through nearby towers or bringing in portable cell base stations, can maintain service.
"CTIA in particular urges the commission not to adopt backup power regulations," CTIA said in 2011, as the FCC was considering steps to make communications networks reliable during emergencies. Requirements would likely be "either too specific to be relevant to many network operators or too vague to be useful for all," CTIA said.
How 5G Will Juice Up Your Phone and Your Fridge: QuickTake Q&A
The issue arose again in 2014, as the FCC considered requiring detailed outage reporting.
"Network performance standards, including backup power standards, are unwarranted," CTIA told the FCC in a filing. "Such regulation would harm network reliability by restricting carriers' abilities to implement innovative solutions."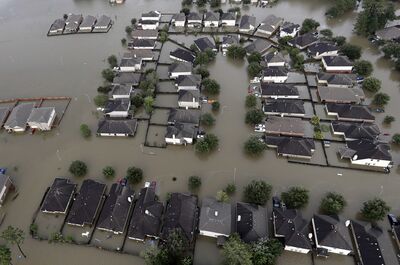 In Texas, the system has held up well considering Harvey's size and power, said Jamie Barnett, a partner at Venable LLP and a former chief of the FCC's public safety bureau.
"Better than might be expected, and certainly better than it did in previous huge hurricanes," Barnett said.
"It's good to have a hardened network, and backup power makes sense," Barnett said. "It's one of those questions: Well, how much readiness is enough? Especially considering these are commercial carriers and they don't get government subsidies for having backup power."
The FCC dropped consideration of a backup power mandate in recent years as it became clear that it was "a pretty complicated matter," said David Simpson, a former chief of the public safety bureau. For instance, some phone companies have towers in places where local regulations might forbid fuel tanks and generators.
The agency settled on endorsing a voluntary framework in which the wireless industry pledges steps such as sharing traffic and aiding one another during emergencies. That accomplished "the bulk" of the FCC's aim to boost system resiliency, said Simpson.